In this tutorial , we will be learning how to deploy our awesome streamlit apps. The simplicity of streamlit makes it easier to build ML apps, Data Science Apps and other python apps. So what do you do if you want to deploy or publish your streamlit app?
There are several options and platforms that you can deploy your app to such as GCP,AWS. But in this tutorial we will deploy our app to  Heroku using their free tier.
To see how to deploy on AWS you can check out this article by Alex T. 
The basic steps include the following:
Create an Account on Heroku
Install the Heroku CLI and setups (we will discuss it in a moment)
Create a Git Account on GitHub or GitLab,etc
Create A Repository for your app
Clone Your App locally
Have a setup.sh,Requirements.txt and ProcFile
Make your changes and push to your git account
Create A heroku app from the CLI
Deploy by pushing to heroku
CREDITS : gabe_maldonado for Quick Solution For Deployment Steps
Let us see the various steps in details.
Create An Account on Heroku and CLI Installation
To create an account you can go to their official website here and sign up.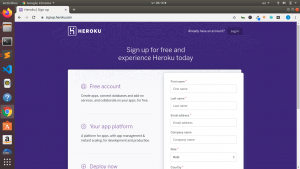 The next thing is to install the heroku CLI on your system. They provide support for all the various major OS. So you can use the one based on your system. The CLI makes your work easier but of course you can also utilize their web interface when you login in into your account.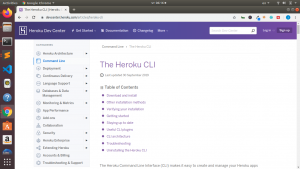 After installing the heroku CLI, you can then login from your terminal as below
heroku login
This will prompt you to press any key to open your browser to login. Then you are set to go.
Using Git and Cloning Repo Locally
If you have a git account either from github/gitlab you can just skip the signup step but in case you do not you can create an account. The next step is to create a repository where you will place the code for your app. It is this repo that you will be using with heroku for your deployment. You can then clone it locally and do all your work. Within this repo there are three essential files you need to allow your app to be deployed.
The Required Files
There are 3 main files which are required to deploy your apps on heroku. These include the
requirements.txt file: the file with your requirements for running the app such as your dependences,etc.
To create a requirements.txt file, it is recommended that you use a virtual environment to avoid copying/freezing all your python packages on your system to the requirements.txt file. So from your virtual env you can run the following to create the requirements.txt file
pip freeze > requirements.txt
or  with pipenv virual environment
pipenv run pip freeze > requirements.txt
Heroku uses your requirements.txt file to detect which language to use(in our case,python)
setup.sh : this file is where you write your credentials,config as well as to create a  folder for streamlit. You will then place the code below in this file. You can choose any of them as you want
Without your credentials(i.e – email)
mkdir -p ~/.streamlit/

echo "\
[server]\n\
headless = true\n\
port = $PORT\n\
enableCORS = false\n\
\n\
" > ~/.streamlit/config.toml
Or With Your Credentials(optional- not recommended since your may commit your email as part of the file)
mkdir -p ~/.streamlit/

echo "\
[general]\n\
email = \"youremail@domain.com\"\n\
" > ~/.streamlit/credentials.toml

echo "\
[server]\n\
headless = true\n\
enableCORS=false\n\
port = $PORT\n\
" > ~/.streamlit/config.toml
Procfile: this file is required by heroku for your configurations. It contains  how  and with what you want to run your app. In most flask apps, it is this file you place your gunicorn command. But for streamlit apps we will be using a different approach.
You just create a text file with the name Procfile . Then place in the following code
web: sh setup.sh && streamlit run yourapp.py
What it means is that for deployment and serving this app use bash(sh) to run the setup.sh file then after that start streamlit to run the app.
After making your changes and your commits. You can first push it to your repository on github/gitlab.
Create An App on Heroku
You can either us the web interface or the CLI, but let us use the CLI. So from your terminal, you can create an app as follows
heroku create yourappname
The yourappname is the name you want to use as your url for your app. Hence your url for your app will be yourappname.herokuapp.com In case you leave it blank like
heroku create
It will randomly generate an app name for you.
To see your app created and to show it in your browser , you can then enter
heroku open
This will show you a default page. Finally let us deploy our app
Deploying the App
To publish or deploy our app, you then push it to heroku with this command
git push heroku master
It will then setup your app with the Procfile ,and install the required packages using your requirements.txt file. After that , you can then see your app deployed and live.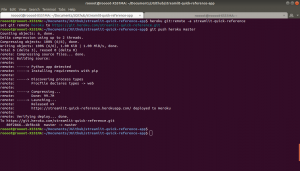 Streamlit is Awesome.
In case you have issues such as
fatal: 'heroku' does not appear to be a git repository
fatal: Could not read from remote repository.
That means your directory is not seen by heroku as a git repository. To fix it you just have to add it by
heroku git:remote -a yourapp_repo_where_you_are
This fixes it. You can also check the logs via heroku –logs.  or from your web ui.
CREDITS : gabe_maldonado for Quick Solution For Deployment Steps
You can also check the video tutorials below for the entire process.
Thanks for your time
Jesus Saves
By Jesse E.Agbe(JCharis)